 Outpatient Locations
Refer Your Patients with Confidence
Rehabilitation Hospital of Indiana (RHI) provides comprehensive outpatient services in three convenient locations for injuries of all magnitudes, even for patients who have not previously been admitted as an inpatient. RHI specializes in both orthopedic and neurological treatment, offering individualized physical, occupational, and speech therapy services.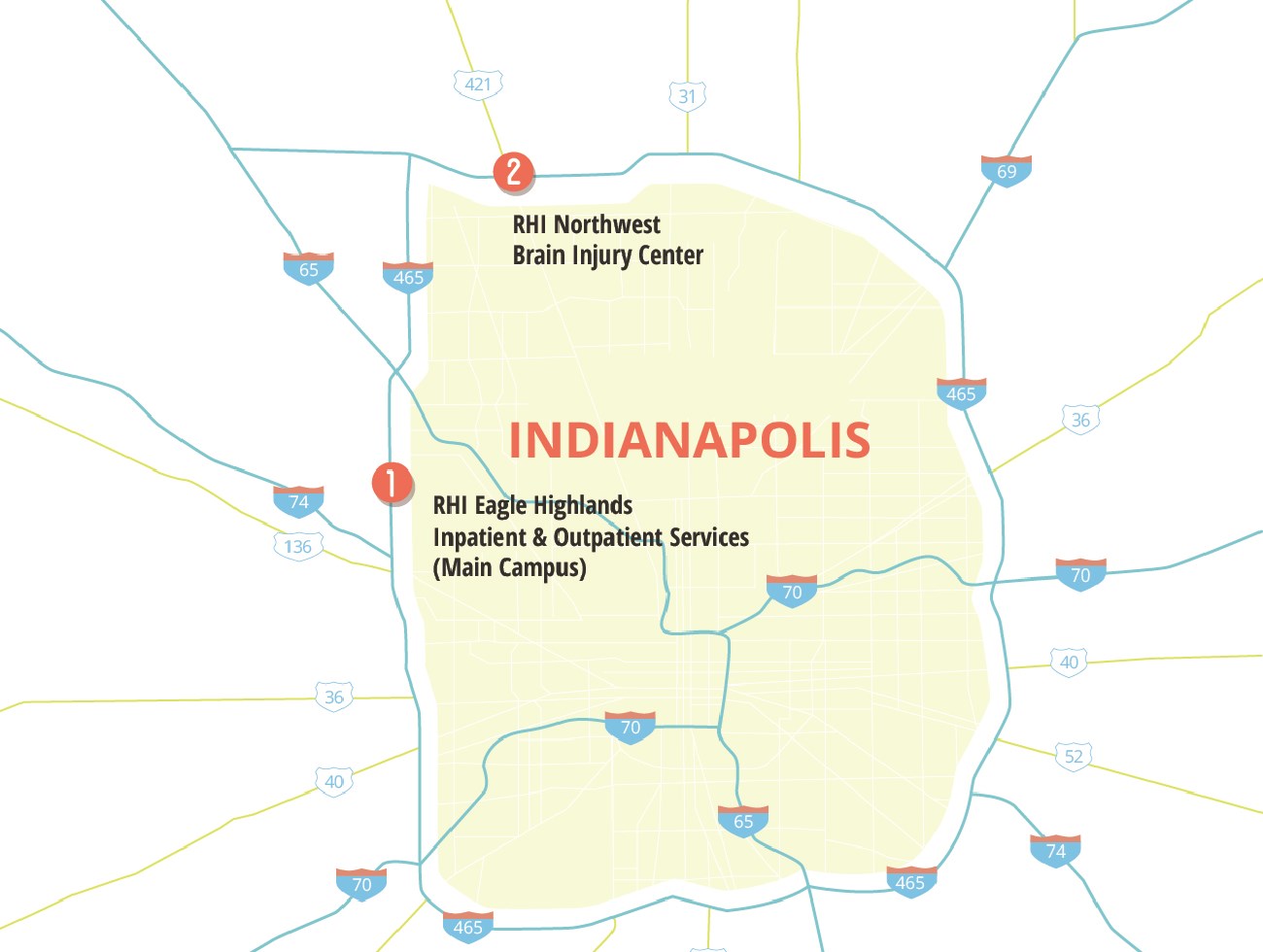 Eagle Highlands Inpatient & Outpatient Services
The RHI Eagle Highlands facility is conveniently located on the west side of Indianapolis close to the Eagle Creek Reservoir. Eagle Highlands serves as our main campus and offers both inpatient and outpatient therapy.
Eagle Highlands Inpatient & Outpatient Services
4141 Shore Drive
Indianapolis, In 46254
(317) 329-2192

Eagle Highlands offers the following outpatient therapy services:
Physical Therapy (PT)
Occupational Therapy (OT)
Speech-Language Pathology (SLP)
Vision (OT)
High-intensity therapy
Functional electrical Stimulation FES bikes for upper and lower extremity
Dry Needling
Northwest Brain Injury Center
The RHI Northwest Brain Injury Center is a comprehensive outpatient rehabilitation facility that specializes in Traumatic Brain Injury and Acquired Brain Injury. As part of RHI's continuum of care, the Northwest Brain Injury Center provides services designed to improve function, independence in the community, and independence in activities of life, work and recreation. Our experienced staff has received certifications from national organizations in neuropsychology and brain injury.
The facility is located off Michigan Avenue and 96th Street. Valparaiso Court is on the south side of 96th St.

Northwest Brain Injury Center
9531 Valparaiso Court
Indianapolis, IN 46268
(317) 879-8940

The Northwest Brain Injury Center offers the following outpatient therapy services:
Physical Therapy (PT)
Occupational Therapy (OT)
Speech-Language Pathology (SLP)
Neuropsychology evaluation and treatment including cognitive therapy and psychotherapy
High-intensity gait training
Day Treatment Program (an intensive, multidisciplinary program consisting of therapy, groups, and community outings)
Parkinson's Program (LSVT LOUD® LSVT BIG®)
Resource Facilitation (a unique program to help brain injury survivors return back to work, school, and life)
Post-concussive services
Vision  (adults and pediatrics)(OT)
Case management
Group therapy
Art therapy group
Facial Affect Recognition (FAR) training
Dry Needling