 Research Labs
Advanced Technology for Research and Rehabilitation
IU Locomotor Recovery Center at RHI
The center uses an array of experimental techniques and training paradigms to better understand how the inherent plasticity of the central nervous system can be harnessed to improve recovery from neurologic injury. It is believed a myriad of factors contributes to a patient's recovery. Current work investigates many of these potential variables, from molecular markers of neural plasticity to spinal cord circuitry to the impact impaired walking ability has on an individual's ability to participate in his or her community. 
The work is integrative. Focus is placed not only on new discoveries but also on the translation of these findings into rehabilitative protocols that can be implemented in the clinic. Past work has investigated the mechanisms underlying behavioral changes due to the use of robotics, body-weight-supported treadmill training, and pharmacologic agents, as well as their clinical efficacy. In order to facilitate this type of translational approach, members of the lab come from a variety of educational backgrounds, including physiology, neuroscience, physical therapy, and engineering.
Current research activities in the center include looking at the effectiveness of walking strategies on short and long-term outcomes during inpatient rehabilitation for individuals who have experienced a stroke; evaluating differing walking training interventions on the recovery of strength, mobility, walking and other measures of health in those individuals who have had a stroke; and investigating how the sympathetic nervous system may be linked to motor activities in individuals with incomplete spinal cord injury.
The Locomotor Recovery Center is directed by George Hornby, Ph.D., was funded by IU Physical Medicine and Rehabilitation and is housed within the RHI therapy gym.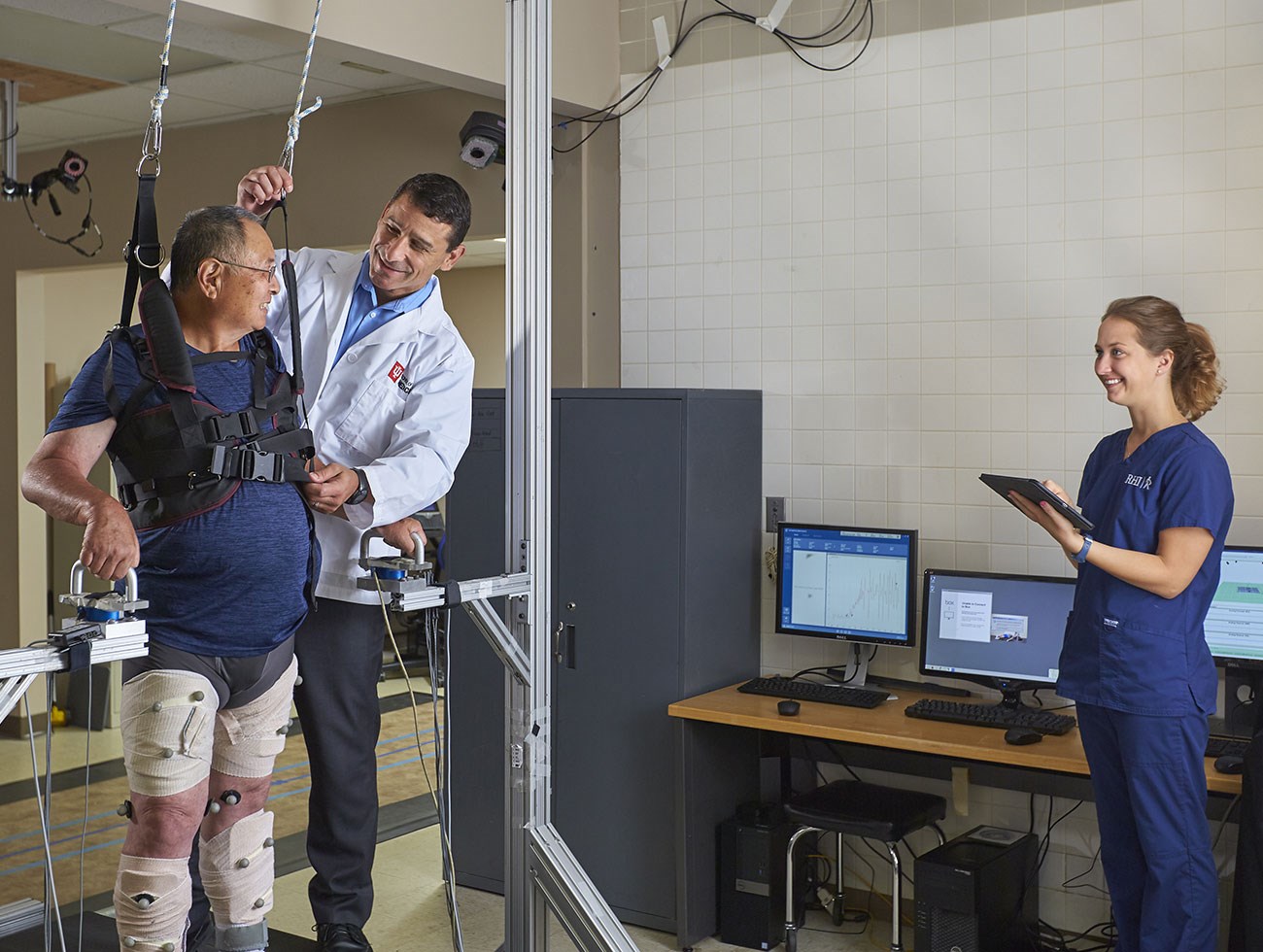 IU InterFACE Center at RHI
Social cognition has to do with the way people process and store information about themselves and others (e.g., what are they feeling or thinking), as well as social situations, and how this information impacts the way a person feels and will respond to situations and to others. When social cognition is impaired, emotional, behavioral, and interpersonal challenges often follow. Too often, research relies solely on subjective reports to understand the problem, but that is only a piece of the picture and sometimes can be inaccurate. These types of emotional and social problems are quite complex, and therefore not easy to detect key factors that lead to these deficits. Understanding these factors is critical to developing effective treatments.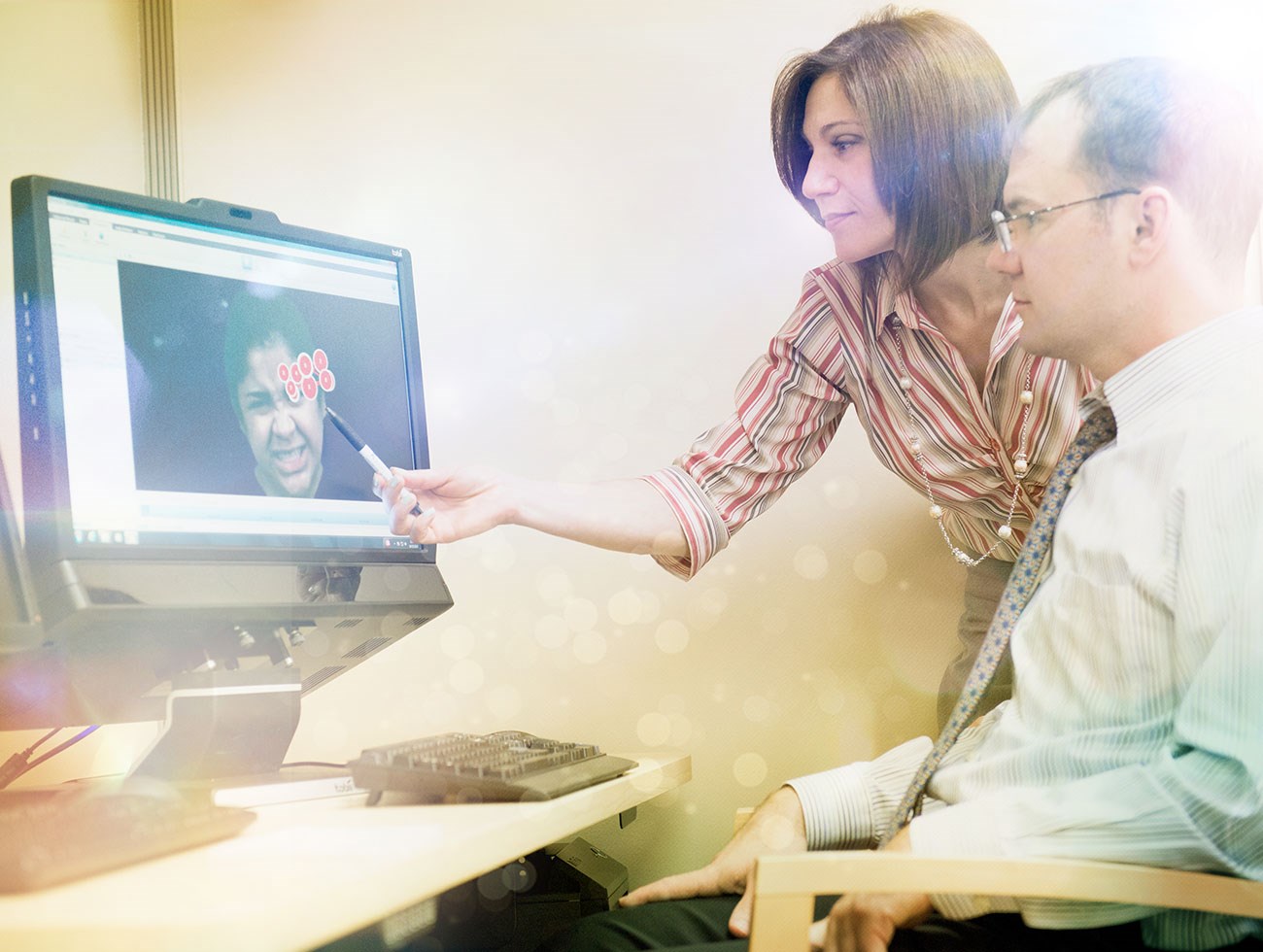 The InterFACE Center is equipped with state-of-the-art equipment that can help us better understand the underlying factors contributing to social cognition, emotional, and behavioral deficits. With a living room design, the Center has three high-definition cameras and a microphone mounted on the wall for research that allows for observation of participants' behaviors and interpersonal interactions. Behind the scenes in the control room, participants' audio-video recordings can be monitored on the computers. The lab also has immersive virtual reality equipment, advanced eye-tracking technology, and wireless technology to monitor physiological response (e.g. heart rate, breathing). This technology allows us to study underlying mechanisms, and collect objective data that is time-synced with behavioral responses. Together, this technology can give us a more complete picture of the problem than stand-alone questionnaires typically used to understand emotional and behavioral deficits. 
The IU InterFACE Center at RHI is directed by Dr. Dawn Neumann, was funded by IU Health, IU Department of Physical Medicine and Rehabilitation; and the Rehabilitation Hospital of Indiana; and Lisa Thompson, MD.