 Careers
Working at RHI
At Rehabilitation Hospital of Indiana (RHI), our staff is committed to providing the highest quality care to our patients, many of whom have endured life-altering disease or trauma. Rehabilitation care is a concept that involves treating acute illness, managing chronic conditions, and teaching adaptive techniques to enhance the quality of life for our patients.
If you would enjoy working in a dynamic environment and are looking for an opportunity to become part of a stellar team of professionals, we invite you to apply online today. In rehabilitation, medicine is our people.
Mission
Rehabilitation Hospital of Indiana provides personalized, compassionate care that enables individuals to regain hope and independence after life-changing injury or illness.
Vision
RHI leads in the practice of rehabilitative medicine through internationally-recognized translational research, innovative and patient-centered care, and holistic training.
We will achieve this vision through the following:
Achieving superior patient outcomes
Embracing innovative treatment methods
Recruiting outstanding clinical expertise
Training the next generation of rehabilitation professionals
Seeking partnerships with other community members who serve our patient population
Providing a lifetime continuum of rehabilitation services for our patients
History and Values
Rehabilitation Hospital of Indiana opened in 1992 as a community-collaboration between Methodist Hospital of Indiana and St. Vincent Hospital and Health Care Center. Today RHI derives its strength from its co-ownership by the two largest not-for-profit healthcare systems in Indiana - St. Vincent Health and Indiana University Health.
Integrity – Treating each individual with dignity and respect
Innovation – Pioneering research leading to better outcomes
Compassion – Providing an empathetic and healing environment
Teamwork – Empowering employees
Service – Providing community outreach and advocacy for individuals with disabilities through our staff, physicians, and the RHI Foundation
STAFF THAT CARES

RHI is a big hospital with the heart of a small one. You get to know everyone because you all work together helping the patient throughout the rehabilitation process. You're more than just a number here.

Stephanie Hale

RHI Marketing Coordinator
Join Our Team
If you do not see the job you want posted online, then there are no current openings for that area. Please revisit the website in the future to apply for open jobs. Applications are saved on the careers website for 1 year, so you do not have to complete a full application each time; however, you must update your application for each job you apply to. Be sure to save your password so you can return to update your previous application.
Applications are accepted for posted positions only and you will be considered if you meet the minimum requirements for the job. Unsolicited resumes not associated with an open position will not be considered. We will contact you if you are selected for an interview.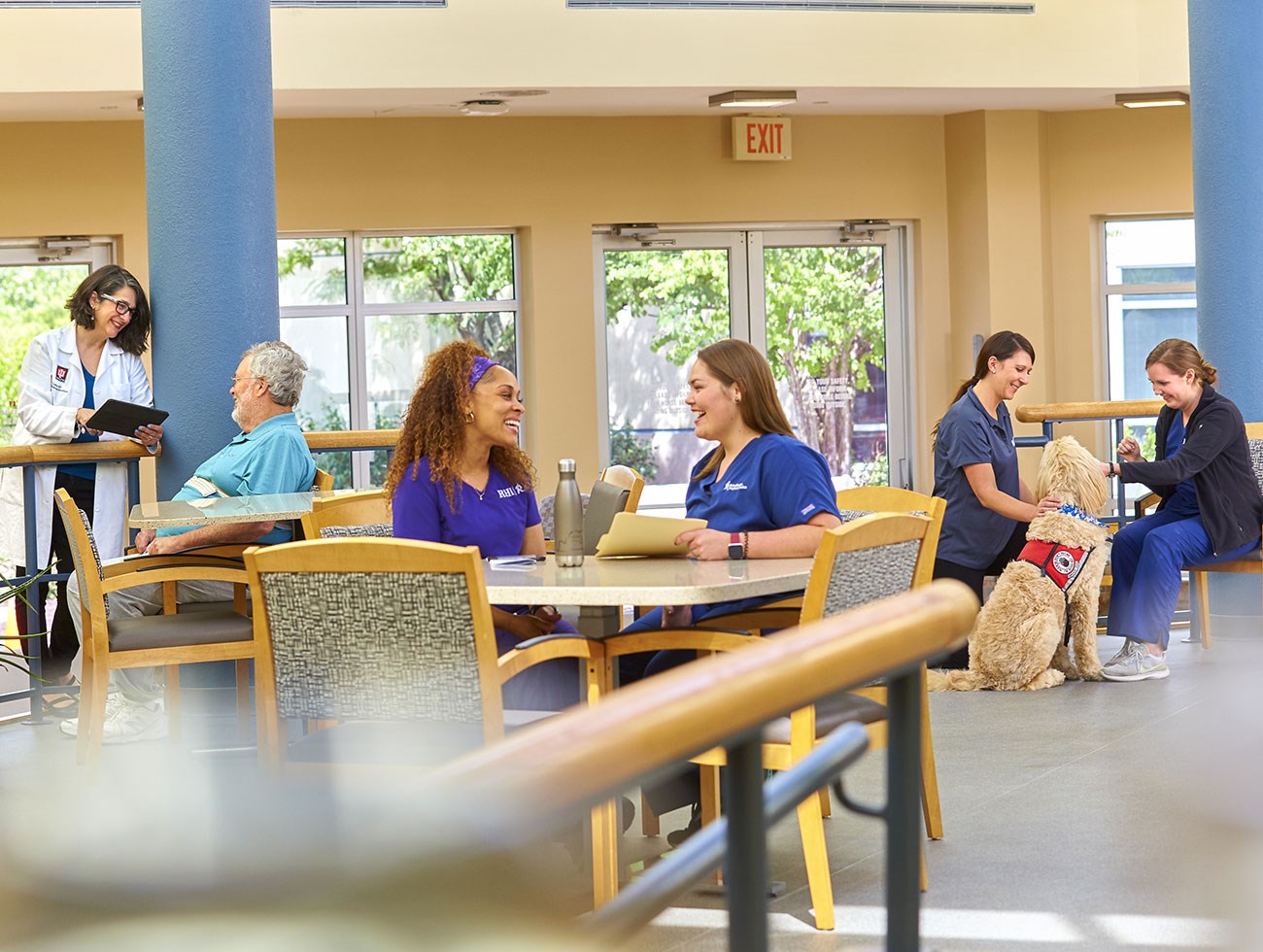 Employee Benefits
Health Care Insurance
RHI knows how important it is to have comprehensive health benefits in a time of need. We offer a network of medical, dental and vision plans to accommodate the needs of our associates. With a wide range of providers throughout Indiana, we are confident that you will be able to find services that fit you and your family's needs.
Overall Wellbeing
In addition to the health plan, RHI offers a plethora of supplemental benefits that assist in life, family, financial wellness, and enrichment:
HSA, FSA, Dependent Care FSA
Basic Life and Accidental Death & Dismemberment Insurance
Supplemental Life and Voluntary Life insurance for the associate and family
Retirement Investment
Employee Assistance Programs
Paid Time Off
Wellness Program
Tuition Assistance
Short-term Disability
Long-term Disability
Benefit eligibility is based upon employment status:
Full time (assigned to work 72-80 hours per pay period and has a regular schedule/shift): eligible for all benefits
Part time (assigned to work 40-71 hours per pay period): only eligible for insurance benefits if working 60+ hours per pay period and are not eligible for Long Term Disability
Supplemental/PRN (no assigned hours): Not eligible for benefits
Questions About Benefits?  
Contact:     Human Resources Department
Email:        humanresources@rhin.com
Phone:       (317) 329-2233