RHI Sports Program Receives Grant from Odyssey Group Foundation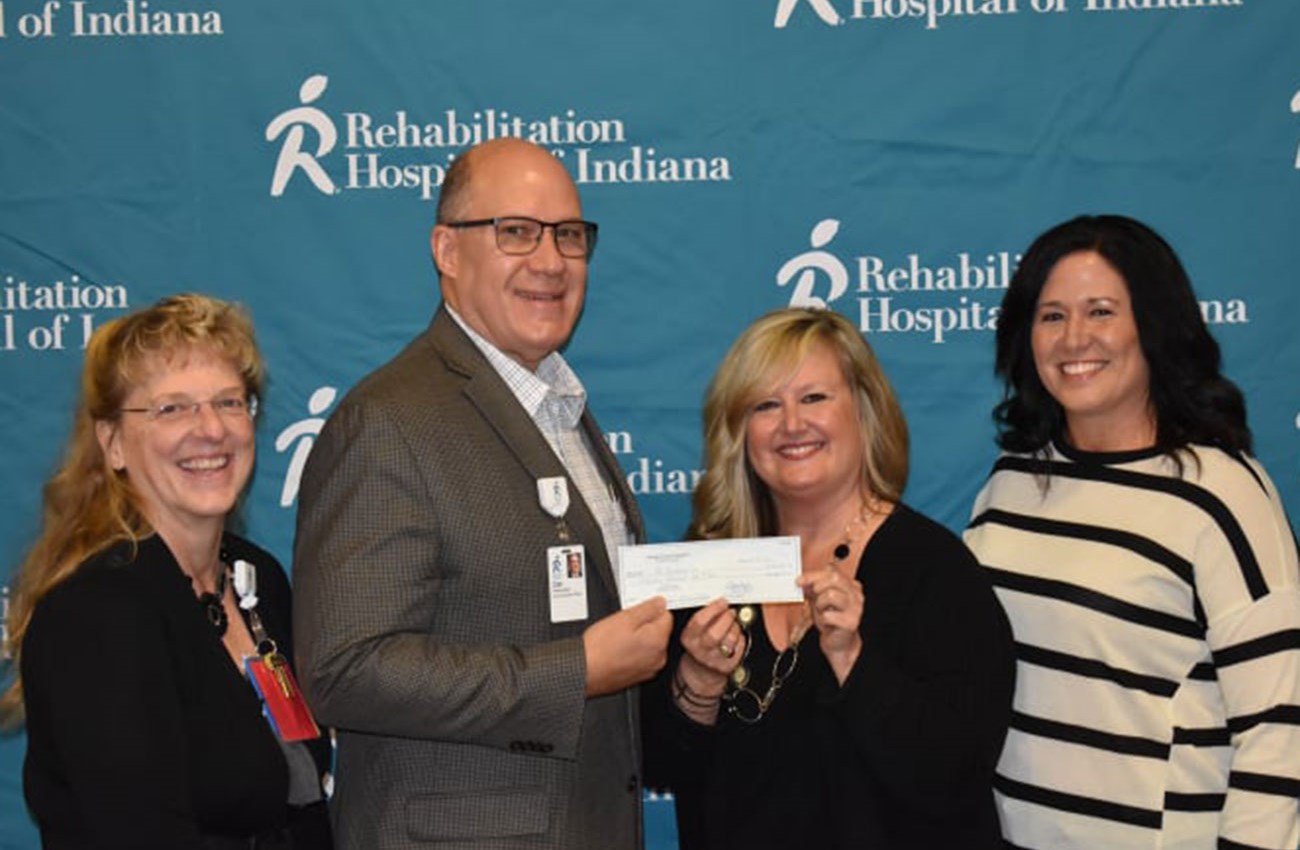 Halloween day at Rehabilitation Hospital of Indiana (RHI) had plenty of fun and creepy costumes and even a staff chili contest, but one treat might have slipped under the radar until now. On Thursday, October 31, the RHI Sports Program received a check for $45,000 intended to help fund the Adaptive Sports Program.
On October 31, Tara McQuitty presented RHI Foundation members Jeanine Stellmack, Sharon Claassen, and Hollie Oman, along with CEO Dan Woloszyn, with a check for $45,000 to help fund the RHI Sports Program. The event showcased in the main lobby, where RHI staff and patients could watch as an integral part of the hospital got the recognition it deserves. Dan Woloszyn spoke on behalf of everyone at the hospital and expressed immense gratitude to Tara and the Odyssey Group Foundation for the generous funding they have provided. The grant will help an already astonishingly altruistic program do more for those who need it most.
A Personal Connection
Reasons for the grant begin with the Odyssey Group and one of its companies, Hudson Insurance Group. Odyssey Group is a collection of companies owned by Fairfax Financial Holdings Ltd. and is a global provider of reinsurance and specialty insurance. Hudson Insurance Group is the U.S. Insurance Division of the Odyssey Group. The grant made its way to RHI through a bi-annual opportunity presented by the Odyssey Group Foundation, which provides funding to charitable organizations active in communities in which its employees live and work. Employees are told to propose a charitable organization that deserves the funding and why, and their coworkers vote on the most deserving. This year, Hudson Insurance Group employee, Tara McQuitty, drafted a proposal for an organization that is very near and dear to her family. The decision came easily for Tara, as her sister, Hollie Oman, is Chair of the RHISP Board and has special ties to the program.
Hollie became familiar with the RHI Adaptive Sports Program through her son, Nick, who was born with spina bifida and developed physical disabilities later in life. Through the program, Nick found his love for wheelchair basketball when he began playing at nine years old. He would continue to play for another 10 years and work his way from the Jr. Racers to the varsity team. The sport gave Nick confidence, self-esteem, and even taught him valuable life skills, as well as helped him make the next big step in his life. Nick Oman earned a scholarship to play wheelchair basketball at Auburn University and continue his education further thanks to the help of the RHI Sports Program and his hard work. His mother, Hollie, was so appreciative and intrigued in the special work that the program does, that she became the Chair of RHI's Sports Program. Through her work with the foundation, Hollie was able to show her sister how the foundation changed lives for the better and inspire her to help even more.