RHI COVID-19 Journey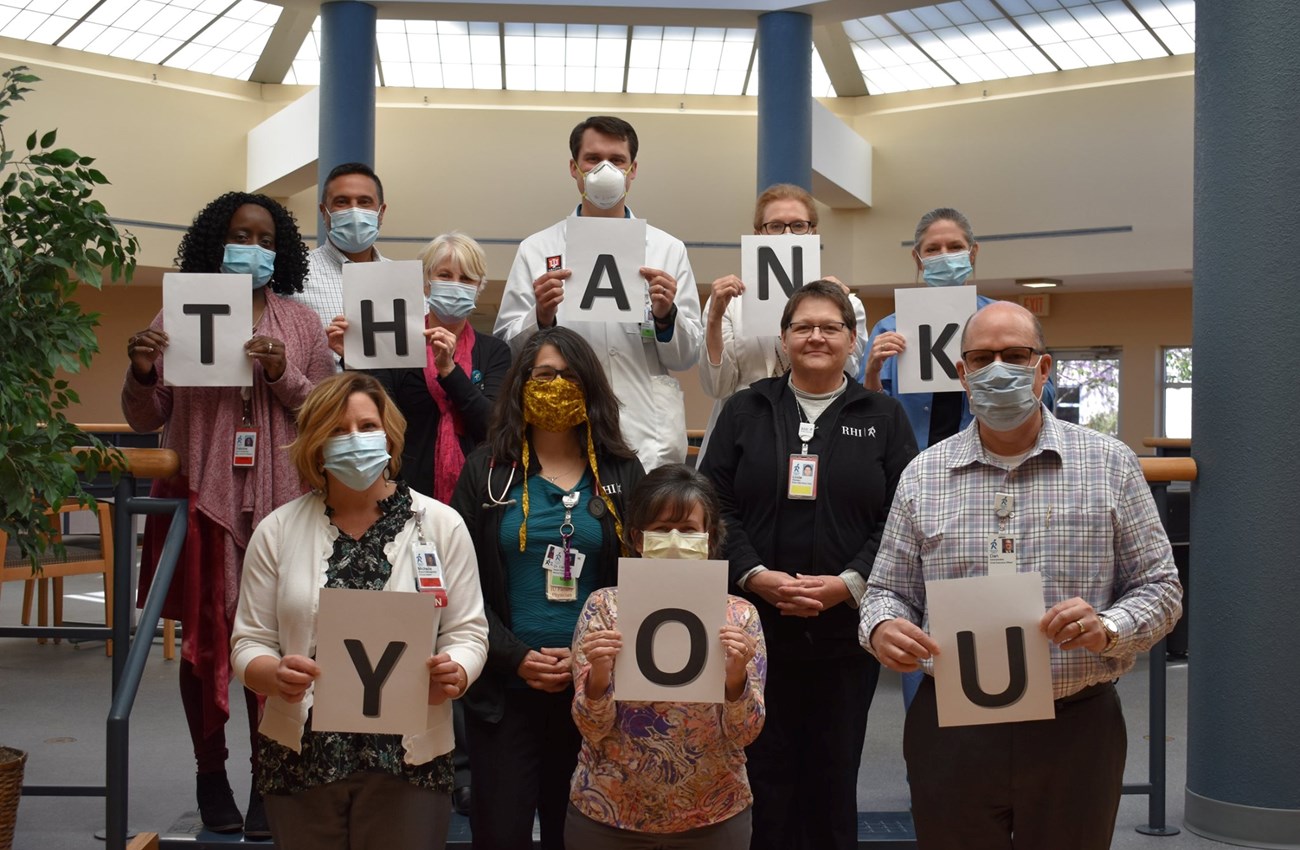 -- By Max Bowler
In an unprecedented time like this, it is easy to become overwhelmed and paralyzed medically, socially, educationally, and economically.  It feels as if the COVID-19 pandemic has touched every aspect of our lives, making it easy to feel overwhelmed and uncertain.  Leading the charge for Rehabilitation Healthcare, RHI engaged their team early on to stay ahead of the curve and remain vigilant on protecting both patients and staff.    

As health and safety continued as our number one priority, new guidelines and regulations were managed frequently.  RHI also made a priority of the well-being of our staff with a focus on financial security for our valued staff and team members through a number of initiatives.   Employees all came together to help those in need, and have remained unwavering in their level of care and compassion  

"Even before the first COVID patient was seen in Indiana, I was concerned about ensuring RHI was prepared to meet the needs of our patients, staff, hospital partners, and community in ways that were always in line with our values to serve others as a team unconditionally, with the utmost level of respect for the human condition.  As patients began to surge across Indiana, I can say without qualification that we never deviated from our hospital values.  Patients and staff alike reported feeling like family and well taken care of," said Daniel B. Woloszyn, Psy.D., H.F.A., CDP, RHI Chief Executive Officer. 

In a scary time like now, RHI, its patients and employees have remained unwavering in their level of care and compassion. Our health care heroes have shown tremendous courage and perseverance to continue to help our patients reach their rehabilitation goals.  

Beginning on March 16, RHI saw the need to create its own Incident Command (IC) Team to ensure a quick and calculated response. This team was tasked with finding ways to protect patients and employees. Immediately, the team aligned with the State, Federal and infection control regulations, including new visitor restrictions, easy-to-use virtual education, and the utilization of telehealth.  

"The Incident Command team was focused 24/7, meeting 7 days/week, developing real-time actions and plans, and successfully addressing patient, staff, and community needs.  The teams' expertise was stellar, with the ability to be flexible and ready to execute the necessary actions to keep patients and staff safe coupled with a compassionate spirit," wrote Woloszyn. 

It quickly became clear to the incident command team that they would need to restrict the number of people coming into the hospital to limit spread of the virus. Once realized, patients were allowed only one family member with them.  

Family members were given resources and tools to help their loved ones at home, and participated in training and education to prepare both the patient and family for a safe discharge.   They learned the following; bathroom training, transfer demonstrations, or how to get dressed and care for themselves independently. All this occurred with staff and the family member gowned, masked, and gloved while socially distanced in a 12,000 square foot gym. All equipment was thoroughly sanitized to ensure safe conditions for families and staff.   

A screening process was put into place for everyone entering RHI, and all were asked a series of questions to screen for COVID-19. Some questions included: Have you been in contact with anyone confirmed with COVID-19, have you had a fever, coughing, or trouble breathing?  

While the aforementioned measures were a great start to keep our facility and staff safe, very extensive measures continued to maintain safety, with additional measures implemented on an ongoing basis. 

We began to conduct virtual education and Telehealth visits using the HIPPA compliant tool ZOOM©, which was user friendly for patients, families, and employees. In particular, this allowed families flexibility in scheduling video calls with therapists to check in on progression of recovery, and ask any questions.  

"While Family training, I was demonstrating how the patient, who had a hemiparetic arm, would stand/use the hand railing for ascending/descending stairs. Our attempt was to setup and pantomime any obstacles which might be possible barriers to home.  As I was demonstrating how a railing would not be available for the hemiparetic side when descending the stairs, as it was on the side of no rail ascending, the patient's father took his tablet out to the front porch where the obstacle was and said, 'Hey Bill, this is what our stairs look like.' The patient's father scanned the stairs and it was immediately clear during our PT session that we could approach the stairs in a safer manner for both the patient and caregiver, and we were able adjust on the fly. 
 
Even if the patient's father was in the hospital during face to face training before Covid-19 restrictions, it would have been very difficult to explain the entrance, but the visual input was a welcome adjustment," said William F. Breuninger III PTA, CBIS.

Our Retail pharmacy continued service through mail order to assist and minimize exposure, and keep them safe.  The, "Meds-to-Bed" program continued this focus on safety, ensuring patients had no need to visit outside pharmacies upon discharge.   

Our discharge process changed dramatically for our patients and families, but came with some exciting new additions.  

Initially one masked family member was screened at the door and entered into the outpatient-designated area to review discharge instructions. We quickly moved to discontinue this process. Instead, the family member would discuss instructions via phone before pick-up to allow another level of added safety for all involved.  

The family would park at the front entrance of the facility at curbside and nurses would guide the patient out to the vehicle.  

Staff began to see that this change made things a little lonelier for patients, as normally patients would be surrounded by family throughout the discharge process.  The RHI Team decided to launch Post COVID-19 Patient Celebration Graduations. After all, our patients have been through a lot, some not able to see more than one family member at a time for months.  

Staff members from various departments throughout the hospital from clinical to non-clinical would line the hallways from the patient's room to the main lobby where they would be leaving for the last time.  Staff would applaud and cheer to the tune of the famous song "Celebration" by Kool & The Gang. The patient would be greeted by leadership and gifted a "farewell" cupcake to remind them of their time at RHI. 

"The graduation was wonderful," said Damon Krug, former RHI Inpatient and COVID-19 Survivor. "It made me feel like I finally had accomplished a lot, and I had a lot of support in moving forward after leaving there.  The therapist that were off made the effort to show up on their day off to be a part of the ceremony, and that made it extra special." 

Lois Sharp, former RHI Inpatient and COVID-19 survivor shared, "I was glad to see so many turn out.  It was very exciting and everyone was nice.  All of the therapist, nurses, and aides were just great!  I was grateful that so many turned out to see me leave." 

"The graduation made me feel GOOD!" said Jerry Sharp, former RHI Inpatient and COVID-19 survivor. 

Throughout this incredibly difficult time, the financial stability of staff had been supported through a variety of various initiatives. RHI established numerous employee assistance programs aimed toward financial health, food security, childcare, and more. The outpouring of support from the surrounding community has been a wonderful and welcoming addition to our "toolbox".  

Various community groups, churches, individuals, and RHI supporters reached out to help.  These good Samaritans provided meal train donations, homemade masks, and brought in tasty snacks for our healthcare heroes to enjoy. 

The timely, meaningful, and strategic actions made by incident command in the beginning and throughout were essential. They were not only put in place to protect patients and staff on the inside, but also protect our community at large outside of RHI.  

On April 8, we received our first post-COVID-19 patient and discharged our first post-COVID-19 patient on April 18.  

Through this entire process, we are proud to report that we have had zero hospital acquired COVID-19 patients at RHI. This will continue to be a point of pride on how we, as an organization, had and continue to come together as an expert healthcare system across every aspect of patient care throughout this and other crises, not to mention day-to-day best practice care. 

Throughout this journey, RHI has truly learned the value and character of those within and outside its walls. The RHI Teams have shown strength, determination, and championed truth. These times are uncertain and we are unsure of the length of our current journey, but we are extremely proud of how everyone has persevered.   

Thank you to all of our generous supporters and phenomenal staff, who are our Healthcare Heroes.  A video presentation of "The RHI COVID-19 Journey" has been included, sharing various moments at Rehabilitation Hospital of Indiana as we maintained the safest environment possible during these unforeseen times.