Contextualized Treatment Helps Optimize Hospital TBI Outcomes and Community Participation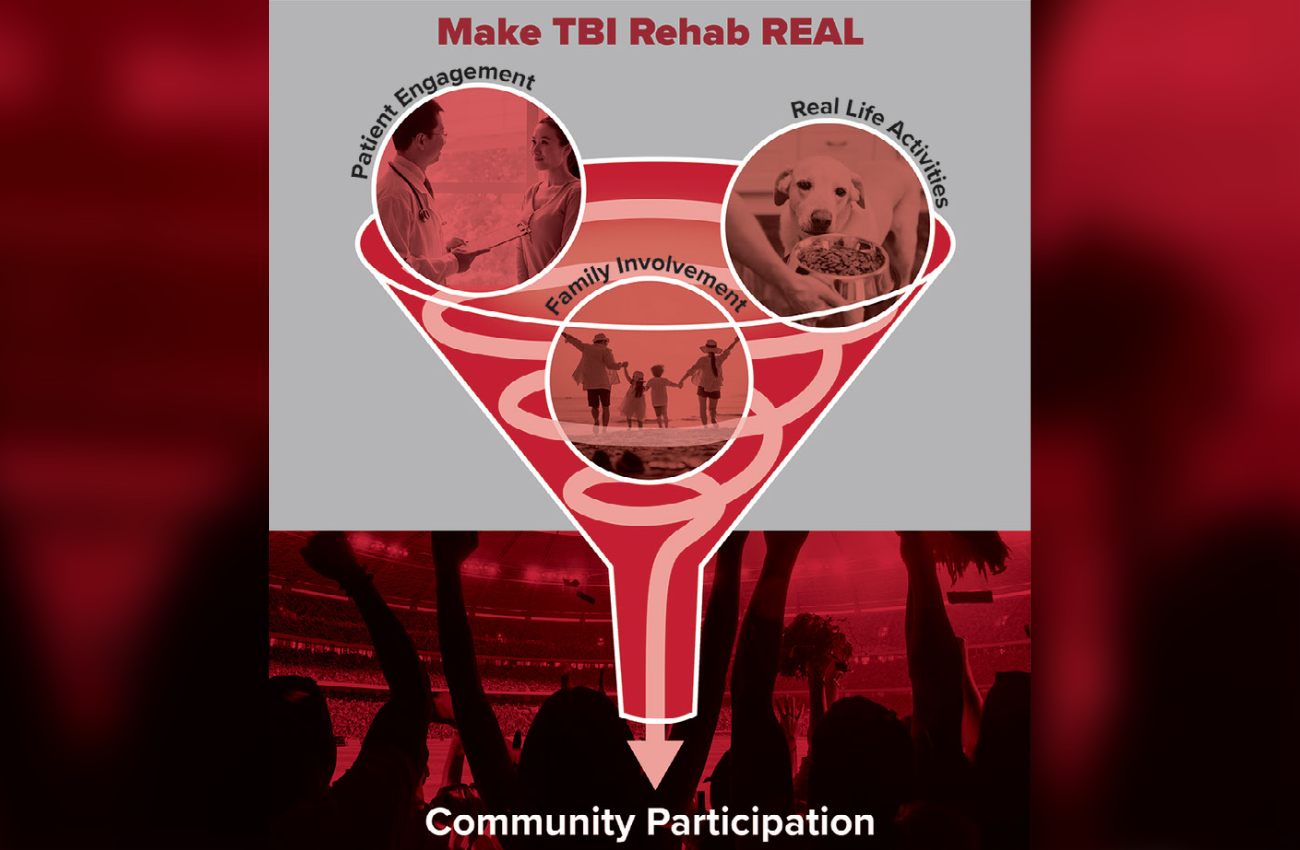 What happens in daily therapy sessions during acute inpatient TBI rehabilitation matters! The content of the therapy sessions may be even more important than the time spent in therapy. Evidence from a comparative effectiveness study led by researchers at The Ohio State University suggested an association between real-life therapy activities (Contextualized Treatment) and outcomes at discharge from inpatient rehabilitation and up to 1 year following injury. Contextualized Treatment involves the application of therapy in the context of activities that the individual will be doing when they return home, such as dressing, meal preparation, walking or using a wheelchair in the community. Increasing the proportion of time spent doing real-life activities during the inpatient stay was associated with being out of the house and more active in the community during the year following discharge from inpatient rehabilitation [Bogner J, Dijkers M, Hade EM, Beaulieu C, Montgomery E, Giuffrida C, Timpson M, Peng J, Gilchrist K, Lash A, Hammond FM, Horn SD, Corrigan JD. Contextualized treatment in traumatic brain injury inpatient rehabilitation: effects on outcomes during the first year after discharge. Arch Phys Med Rehabil. 2019;100(10):1810-1817.]
More research is being done to verify and extend our understanding of the effects of contextualized treatment. However, since Contextualized Treatment is already being used in inpatient rehabilitation, we know that it is safe to use. The findings of Bogner et al., 2019 provides a strong basis for increasing the use of Contextualized Treatment, while continuing to use other rehabilitation approaches driven by the individual patient's needs.
Providing contextualized treatment can be challenging in a hospital setting. With funding through the Patient-Centered Outcomes Research Institute (PCORI), a Dissemination Package was developed to address this challenge. Clinicians from the Rehabilitation Hospital of Indiana (RHI), Mercy Health-St. Rita's Medical Center, the Tampa VA Polytrauma Rehabilitation Center and the Ohio State University Wexner Medical Center collaborated to develop a Dissemination Package that can assist acute rehabilitation facilities with incorporating a greater proportion of contextualized treatment into their daily therapy sessions. Flora Hammond, MD, Kristin Hull, OTD, MOTR/L and William Breuninger, PTA and the TBI rehabilitation team at RHI contributed to the package development by helping to develop a menu of contextualized activities, readymade kits of supplies for real life activities, and examples of ways to reduce documentation burden. Kristin Hull participated in the development of a webinar that therapists and team leaders can review to learn more about Contextualized Treatment while earning a Free CEU. 
Kristin Hull had this to say on the collaborative project, "This has been a true one-of-a-kind, interprofessional collaborative experience. We were able to work together alongside three other wonderful rehabilitation teams to translate and disseminate research into practice and then, develop and provide education for rehabilitation professionals nationwide to enhance outcomes for patients post-brain injury." She went on to add, "At RHI, contextualized treatment can be seen throughout the hospital, experienced through individualized and group interventions, and heard through the educational opportunities provided with patients, families and students on why this particular treatment matters. The webinar continues to provide that learning opportunity for rehabilitation professionals to understand the research and the impact it has on care along with an orientation to the dissemination package."
The Dissemination Package includes a review of the evidence to date, a menu of therapy activities to assist with treatment planning, methods for reducing documentation time, and pre/post surveys that can be used to assess clinical performance improvement relative to the use of contextualized treatment. A CE webinar is available to explain the evidence behind contextualized treatment as well as how to use the Dissemination Package.
______________________________________
Free CE Opportunity
Go to Optimizing Rehabilitation Outcomes through Contextualized Treatment by clicking the button below!