 Adaptive Sports Program Clinics
Trying New Activities Throughout the Year
We offer clinics in the following:
Snow Skiing
Water Skiing
Kayaking
Sailing
Rowing
Scuba Diving
Track & Field
Hand Cycling
Racing
Sit Volleyball
Boccia Ball
Pickleball
Tennis
Table Tennis
Fencing
Ziplining
Rock Climbing
Horseback Riding
Ballroom Dancing
Bowling
Kali Self-Defense
Snow Tubing
Adaptive Sports at Rehabilitation Hospital of Indiana (RHI) partners with community organizations to offer a variety of recreational clinics throughout the year. Clinics range from a couple of hours long to all day and are scheduled about 1-2 times per month.
How to Sign Up for a Recreational Clinic
To sign-up for an event, please use the Eventbrite link located on our flyers, Facebook, or Instagram page. For all RHI Sports Program Clinics please complete the following forms:
Please scan and email them to rhisports@rhin.com, Fax at 317-329-2020, or bring them completed to the clinic.  Some clinics may require medical release by the company we are partnering with for the event.  Please read description of event to make sure a medical release is not needed for the clinic you will be participating in.
Upcoming Clinics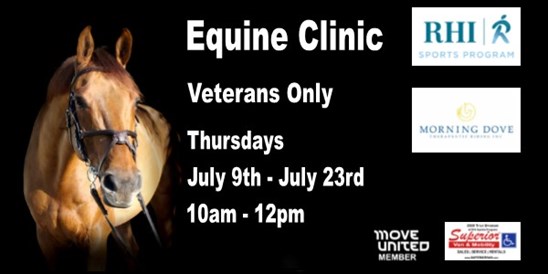 Equine Assisted Activities and Therapy for Veterans
RHI Sports is excited to be partnering with Morning Dove Therapeutic Riding to offer Equine Assisted Activities and Therapies to Veterans!
Who: Any Veteran who deals with Post Traumatic Stress Disorders, or other emotional or physical disabilities.
What: A three week program where veterans will participate in different types of equine therapy and activities. During these sessions we will be grooming, haltering and leading, getting to know horses personalties and communications, and riding.
When: 10:00 AM - 12:00 PM Thursday, July 9th, July 16th, and July 23rd.
Cost: Free to any veteran who would like to participate.
Where: Morning Dove Therapeutic Riding - 7444 W 96th St., Zionsvile, IN 46077
*Only 5 spots available!*
**There is a 180lb restriction for riding. However, even if you cannot ride you can participate in all other activities.**
***Masks will be required and we will be doing a health screening prior to each session.***
Stress and anxiety affects all of us especially in today's world. This yoga class features gentle movement coordinated with the breath that allows the mind and body to recover from everyday stress. It also combines meditation and relaxation techniques. Gentle yoga practice is appropriate for all levels. This is an online lcass for Veterans.
Meet Our Instructor: Please meet Karen Thompson who became a certified yoga teacher at the 200 level to share her love and passion of yoga with others; especially new students. Karen is also a registered nurse and has practices in the rehabilitative field for 15 years. She enjoys teaching a gentle, restorative yoga class as well offering yoga for individuals with physical disabilities.
Who: Any Veteran who would like to participate in yoga.
When: Live classes will be held on Friday's Starting May 8th - May 29th from 9:00 am - 10:00 am. They will be recorded and posted to our YouTube page.
Cost: Class is FREE!
Where: Zoom - After you sign-up we will send you a waiver and liability form. Once we get this back, We will send you a link to enter the class.
If you have any questions please contact us at rhisports@rhin.com or (317) 329-2020.
Please join #2 ranked USA Paratriathlete and RHI Elite Athlete, Uriah Steffen, weekly for a 30-40 minute Adaptive Workout.
About this Event
These workouts are progressive and designed to build stability, strength, and confidence. Whether you are just learning to walk, reintegrating into your community, chasing a dream, or an experienced athletes there is something for you.
Uriah will have another athlete showing a modified version of his exercise program.
Time: Tuesdays starting at 8:30 am. Class will be taped and posted to the RHI Sports YouTube Page.
Cost: FREE
Once you sign-up we will send you a waiver and the link so you can join virtually. If you have questions please contact RHI Sports at (317) 329-2020 or rhisports@rhin.com.
Punch for Veterans Boxing Session
Join Punch for Veterans Boxing instructor, Jefferey Tabb, for his beginner boxing session on our YouTube page!
Follow the Adaptive Sports Program on Facebook and YouTube
To stay up to date on available clinics, teams, news, and other events, follow the RHI Sports Program on Facebook and YouTube!